Not sure you people are aware that as all our networking activities got pushed a bit forward, there is this new AVnode ( http://avnode.org ), that made LPM Live Performers Meeting in Rome partner of Visual Berlin. Of cause, there is much more history about this connection, and a lot of Visual Berlin artists have always participated at LPM.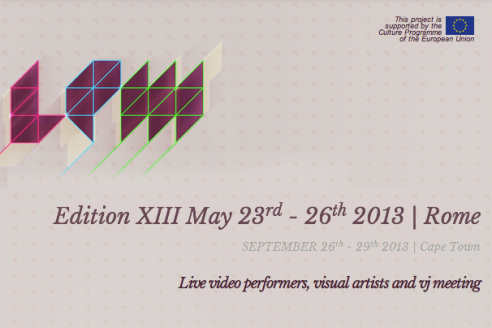 It is definitely worth to go and experience the unique festival atmosphere there! You will find lots of artists that you probably know or saw their work already – right by your side. Workshops and Lounging makes your daily program comfortable and not to forget, you'll be in an amazing city of Europe.
So, as the APPLICATION DEADLINE IS EXTENDED UNTIL MARCH 31ST, it could be YOU that joins the Meeting in Rome and showcases your latest piece or project! Follow the link to find the application formular – everything can be done online, all you need is title, description, some photos, a short video (u have to upload an example there!) and thats it!
http://2013.liveperformersmeeting.net/participate
See you in Rome!