03.12. – share.Berlin vol. #19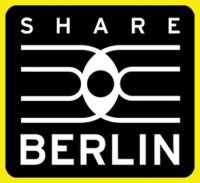 share Vol.19, a full audiovisual experience!
Die 19te Session am Donnerstag dem 03.12.09 mit audiovisuellen Highlights im LUX ist der Klang- und Bildforschung gewidmet.
LUX startet an diesem Abend mit einer weiteren Konzertveranstaltung und geht ab 23:00h in die Share-Session über. Die visuelle Seite wird mit Experten von VisualBerlin e.V. bestückt sein und bietet auch anderen experimentierfreudigen VisualistInnen eine Manege. Aufgrund des vorhergehenden Konzertes erwartet Dich heute ein neues Audio-Special in Form vom Vinyl-Digital-Set im Slowtech-dubstyle-Mix von DJ Shaban und Tofa mit elektronischen Raritäten von gestern und morgen. Zur generellen Info über share: Share ist ein Open-Jam, wie man es vom Open-Mic-Jam kennt, hier aber in seiner vollwertigen experimentellen audiovisuellen Form!
Und deshalb kannst du dich schonmal entsprechend vorbereiten um kraeftig mitzumischen. Wenn Du Spass am VJing hast – join the jam – für jeden Geschmack ist was dabei! LUX, Schlesische Str. 41, 10997 Berlin X-Berg, der Eintritt zu Share is FREI!
+++english version+++
SHARE JAM Vol. 19!
share Vol.19 – a full audiovisual experience! The nineteenth session comes up on the 3.rd of December at LUX in Kreuzberg, a place and space for a nextlevel open audiovisual jamsession.
This night LUX is starting with a regular concert and switches over to the Share-session at 23:00h. The visual part will show experts from VisualBerlin e.V. – still also offering interested visualists open slots. Due to the beforhand concert we are coming up with something new on the audiopart – presenting audiovisual experiments, tonight as vinyl-digital-set in a kind of a slowtech-dubstyle-mix by DJ Shaban and Tofa with the finest electronic tunes of yesterday and tomorrow. General info: Share is an "Open-Jam", like you know this from Open-Mic-Jams, but here in its full range of experimental audiovisual Form!
So relax first, take the break to create some new stuff on visuals for the next session and join the visual jam.
LUX, Schlesische Str. 41, 10997 Berlin X-Berg! Entrance to share sessions is FREE!