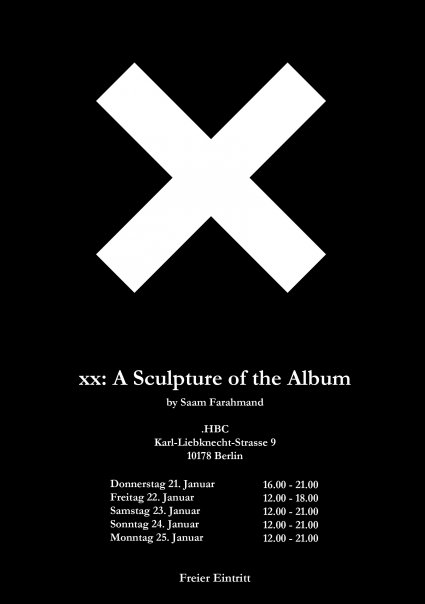 .HBC is pleased to present xx: A Sculpture of the Album by Saam Farahmand.
London band The xx have teamed up with acclaimed music video director Saam Farahmand for a unique audio-visual collaboration.
xx: A Sculpture of the Album by Saam Farahmand will see Saam creating a 3D physical interpretation of The xx's stunning debut album, xx, which was launched in London in January and is now set to tour Europe. Utilising film, light and sound via three specially created audio-visual units (each unit representing one member of the band with a mix of exclusively filmed footage and mixed sound), every visitor will have a totally unique experience of xx. This event will showcase the recorded album format in a whole new context. In an era where access to music is unlimited and often provides the background soundtrack other experiences, this will be an opportunity to become totally immersed in the album in a whole new way.
This will be the first realisation of an idea that Saam has been developing for some time, and one that he plans to roll out for other artists.
Opening Times:
Public Opening:
Thursday 21st January: 16.00 – 18.00
Friday 22nd January: 12.00 – 18.00
Saturday 23rd January 12.00 – 21.00
Sunday 24th January 12.00 – 21.00
Monday 25th January 12.00 – 21.00
For more information on the .HBC art program and forthcoming events, please visit www.hbc-berlin.de
To subscribe to our mailing list, email us at newsletter@hbc-berlin.de